What is Grandpa Up to Now?
What is Grandpa Up to Now? 

by Lucy Geddes
Xlibris
book review by Carol Anderson
"When Mom and Dad are very busy, who can you go to if you have a question or need some help? Grandpa!"
This storybook for children explores the relationship between a grandfather and his grandchildren. Colton tells the story of his grandfather and all he does to help the children, from fixing a bicycle to capturing a personal drone that got stuck on the roof to assisting fellow campers with their tent to having fun while camping and escaping from a skunk. While Grandpa enjoys activities, he also displays patience with a grandbaby and loves to make her laugh. The book describes how the grandchildren enjoy spending time with both him and Grammy and discusses how they enjoy listening to them talk about their mothers and fathers when they were younger. It also demonstrates a time when Grandpa needs help from the children.
Geddes' book offers a nice look at the relationship between the generations, shows the love the grandfather and grandchildren have for each other, and reveals the wonder of such a relationship. It also teaches the reader how to trust a beloved family member. By exploring all the things that the grandfather does for the kids, it demonstrates a value of an intergenerational relationship, and the reader learns about how to "think, solve problems, fix things, help others, be safe, respect nature, be creative, have fun, be patient, and study hard"—all valuable life lessons. The one example of the grandfather's need for help from the children nicely demonstrates a reciprocal relationship. The illustrations are well done and contribute to the telling of the story. Finally, the book is well-written with a lot of dialogue, making it most appropriate for older children.
RECOMMENDED by the US Review

Title: What Is Grandpa Up to Now?
Author: Lucy Geddes
Publisher: XlibrisUS
ISBN: 978-1-6698-2539-5
Pages: 39
Genre: Illustrated Children's Book
Reviewed by: Carol Davala
Author Lucy Geddes' children's book What Is Grandpa Up to Now? takes a delightful look at all the opportunities for teaching and learning when a youngster spends time with their family elders.
Here, through a straightforward and easy to follow narrative, grandson Colton tells the story of his Grandpa providing help and knowledge when his Mom and Dad are busy. Whether adjusting a bicycle seat, getting a stuck drone off a rooftop, or demonstrating the art of building a perfect campfire, Grandpa's MacGyver-type actions always prove welcome problem-solving assists. 
Geddes' story features this involved family elder sharing his innate abilities to rock a fussy baby to sleep, or make it laugh. Fun overnights at the Grandparents' house often involve practical joker Grandpa, flicking the lights on and off while Grandma tells a bedtime story, showing the kids how to make homemade ice cream, or describing to the grandchildren the years when their own parents were young. Clearly the elder's teachings and wisdom have made an impression on these youngsters, as they in turn are quick to apprise Grandpa of approaching danger near the book's end, in order to remove him from harm's way. 
Illustrations provided by artist Windel Eborles easily corresponds to the storyline with the use of a solid and bright color palette. Character nuances come through in the visual details from the cover image of a fun-loving, gray-haired, mustachioed Grandpa giving a wink, or the worried facial expressions of the young family members when their campsite is visited by a mother skunk and her kits, to the wild plaid PJs worn by Grandpa, that make him seem like one of the grandkids. Though this is primarily a tale about Grandpa, since Grammy's participatory efforts are acknowledged in the storyline, her visual presence would have been a nice addition. In a modern-day finale, Geddes invites readers to share lessons they've learned from their own Grandpa, via postings on Facebook or Instagram. 
In recent times, with more and more generations of families residing under one roof, this is a well-paced, informative book, ideally to be shared by a new young reader and an elder family member. With its multitude of lessons about fixing items and solving problems, helping others, respecting nature, being patient, having fun, and learning new things, the final takeaway reinforces the importance of family connections and the true value of knowledge and experience passed between generations.

This is the story about a boy named Danny who had his best friend, Nicky, a Golden Retriever, grow old and die. Yes, as all dog owners know the loss of a pet is one of the saddest things to happen in life. In many ways, Danny was saddened and simply overwhelmed with his thinking about Nicky, wondering as the book title suggests, Where Did Nicky Go?
Author Lucy Geddes has written a very lovely and important story which all children living with a dog, or even another loved pet, will benefit from the experience Danny went through. She teaches a lesson of kindness and hope, along with allowing the time for Danny to come to grips with the loss of his best friend. Illustrations by Schenker De Leon adds the perfect visual layer of the messaging for this story allowing readers to see Danny and how the loss of Nicky played upon his emotions. Together, this is a somber story, yet realistic about the lesson of having to put thoughts in the past – even seeing how hard it was for Danny to understand.
All hope isn't lost, as Danny is asked to temporarily take care of a friend's puppy named Toby while that puppy's family is out of town, and Danny agrees. As Danny reads his sci-fi book, Toby gets into trouble, and actually eats some chocolate out of Danny's jeans pocket, then goes downstairs and turns over the garbage in the kitchen and makes a mess. Danny is told by his parents that Toby is only a puppy and needs to be watched more closely. Then something special happens.
Danny is at the beach with his Mom and sees a pattern in the clouds of a dog and a smaller dog. Danny believes this was a message from Nicky to Danny that he is alright, and as the clouds dissipate their image, Danny is comforted in knowing Nicky is in dog heaven. The story ends with a real-life photograph of the family with their smiling Nicky, and as the book closes, readers will feel the healing process of getting over the loss of a loved dog in their lives; a very important message to all dog owners.
Lucy Geddes has written a valuable theme in a very gentle and loving book for young children to learn from in Where Did Nicky Go? She answers the book title's question with providing comfort and hope. This is a very important book for all families with a dog because someday, every child will feel the same emotions that Danny went through, and ultimately know their pet moved on to a good place. Highly recommend for any age, even if no loss, separation, or major change in their life has occurred.
Book Review by Toby Berry
"Why didn't Nicky get better like he usually did?"
This story confronts the death of a pet. The main character, Danny, loses his beloved dog, Nicky. The author gently writes exactly what needs to be said, helping parents guide their children through it, and helping rally any child facing that situation. In Danny's case, his dog dies right before the summer break, so he has plenty of time to feel the hole in his normal summer vacation. But then his friend asks him to dog sit his puppy. Danny stumbles, not wanting to replace one dog with another so fast. When he realizes that he needs to step up and help his friend by agreeing to keep the dog, he still struggles to rebound enough to give the puppy the attention he needs and deserves. In this story, Danny's parents guide and encourage him, rather than mandate his responses and decide for Danny when he is ready to recover from his grief.
Although the subject is depressing, it is true that adults sometimes find themselves fighting to maintain their child's rainbows amidst thunderclouds. This book helps parents wade the waters of childhood disappointment. No one can protect their children from loss, but their loved ones can learn to help them with resilience. The book is best for parents and children to read together because It touches on religious beliefs and Heaven. Danny's mother says, "I believe Nicky's happy too. God wants us all to be happy." The illustrations are precious. Sad Danny, lying on his bed with his red cheeks, is both adorable and sympathy-provoking. In fact, all of the facial expressions make these illustrations special and exemplary. While probably children from kindergarten through fifth grade and their parents who are going through the loss of a pet will appreciate this book the most, it is truly touching for anyone.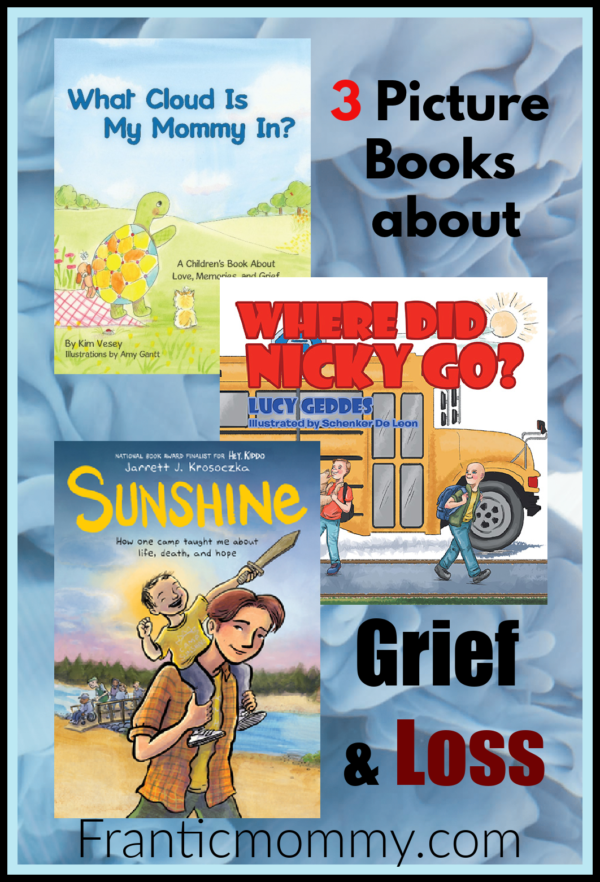 School is out for the summer. Normally, Danny would be excited to be spending the summer with his best friend, Ryan. But this year is different. Sadly, Danny has just lost his beloved dog, Nicky.
When Ryan asks him for a favor while on the bus ride home, Danny is unsure of what to do. But as he is about to discover, sometimes the most difficult favors are the ones that help us the most.
In "Where Did Nicky Go?" Geddes gently approaches the delicate subject of death and imparts a valuable message for young readers to learn from as it tells the story of a boy and his experience dealing with grief for the first time after his beloved dog, Nicky, passes away. Having been a teacher for 33 years as well as a parent and grandmother, Geddes knows firsthand the loss of a pet or loved one can be difficult for children to comprehend. She hopes her book will assist parents in helping their children understand the meaning of grief, cope with difficult times, and navigate the healing process which is much needed during these times of uncertainty.

Title: Grammy Said, "No!"
Author: Lucy Geddes
Publisher: Xlibris
ISBN: 978-1-6641-4401-9
Genre: Illustrated Children's Book
Pages: 24
Reviewed by: Barbara Miller
"No means No," but not all of the time. "No" can be "Why Not?" This is the lesson learned in author Lucy Geddes' book Grammy Said, "No!"
"No" to painting the backyard play structure 6 different colors, "No" to playing outside in the rain, "No" to putting pickles, cheese, pretzels and olives on a peanut butter and jelly sandwich – all turn into a "Why not?" within the beautifully illustrated pages of this fun children's book. As it turns out, playing in the rain is fun, and those sandwiches tasted good. But most impressively – the colorful painting of the play structure is revealed at the end of the book to have really happened – so it can be said that part of this book, at least, is based on a true story.
There are some rules which "No" means "No" – at least until some safety precautions are taken. For example: "No" to a bike ramp until knee pads and a helmet are put on; "No" to climbing tall trees when shorter apple trees can be climbed while gathering fruit; and "No" to going swimming, that is unless an adult is with you. So, in essence, children will learn the degrees of "No."
The illustration-laden book tells the story with the short text interwoven to guide the many lessons. The artist, Schenker De Leon did a marvelous job showcasing the eyes of the characters, bringing out the emotions from that of a stern warning, to happiness and fun depending on what the situations called for.
This book is a wonderful way to bring to children the discipline of paying attention to the "No" of an adult. It can mean not at all, like never; or not yet, as in let's do something to play it safe. These qualifications of the word "No" need to be explained providing the reasoning and caution children expect from their elders. In fact, a Grammy is always supposed to say yes, but this book explains the reasons why this Grammy is a "No!" for good reason.
Grammy Said, "No!" is because Grammy loves you.
Grammy Said, "No!"
by Lucy Geddes
Xlibris
Book review by Jonah Meyer
"You can't put pickles, chocolate, pretzels, olives, chips, cheese, and raisins in a peanut butter sandwich!"
Sometimes there are reasons Grandma has to say "no," such as in matters of safety. Other times, when the initial answer is "no," Grammy then reconsiders. "Why not?" she thinks to herself. No harm will be done, and it might even be fun. In this delightful children's picture book, that's precisely what happens in a series of events, including the creative culinary decision to embellish a basic peanut butter sandwich with such outlandish ingredients as olives and raisins. The little boy and girl laugh, realizing it is quite delicious as they eat with Grammy.
Playing outside in the rain at first elicits a "no" from Grammy, but after her thinking, "Why not?" the three again enjoy silly fun. And when the children want to paint the swing set six different colors, Grammy says "no," but then reconsiders, declaring, "This is going to look so pretty." However, Grammy is quite firm in her "no" when it comes to the children going swimming without her, explaining they must never swim without an adult present. And so the three enjoy the pool together.
Geddes' fun and brightly illustrated book is a fantastic selection to read with any group of small children. One can imagine the kids saying together in chorus, "Grammy says, 'No!'" The important lesson imparted is that while sometimes it is okay to do silly things—with the permission of a parent or grandparent—there are other times when the answer must be "no." These would include any situations involving their safety, health, and wellbeing. But no doubt about it, Grammy finds creative and slightly unusual ways to have fun with her grandbabies. Featured at the book's end is a photograph of Geddes with the motley-colored swing set her real-life grandchildren painted, for which they developed the decorative color scheme.